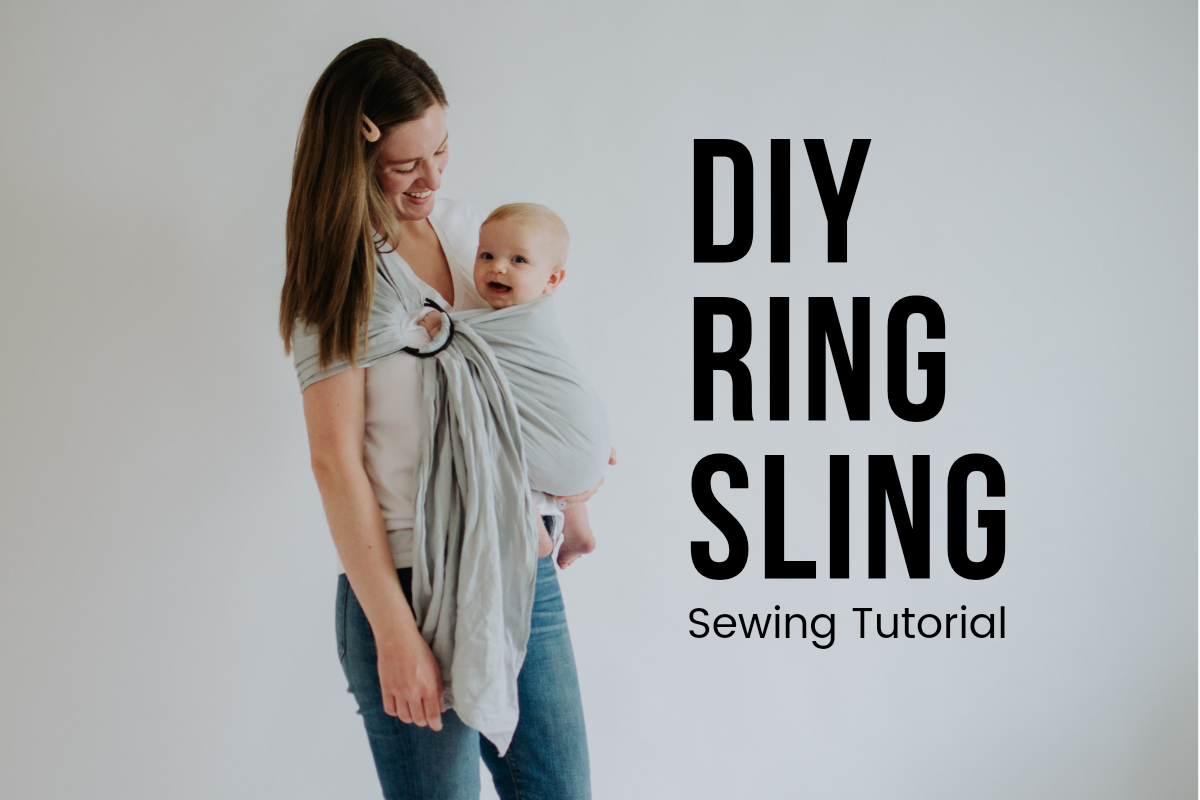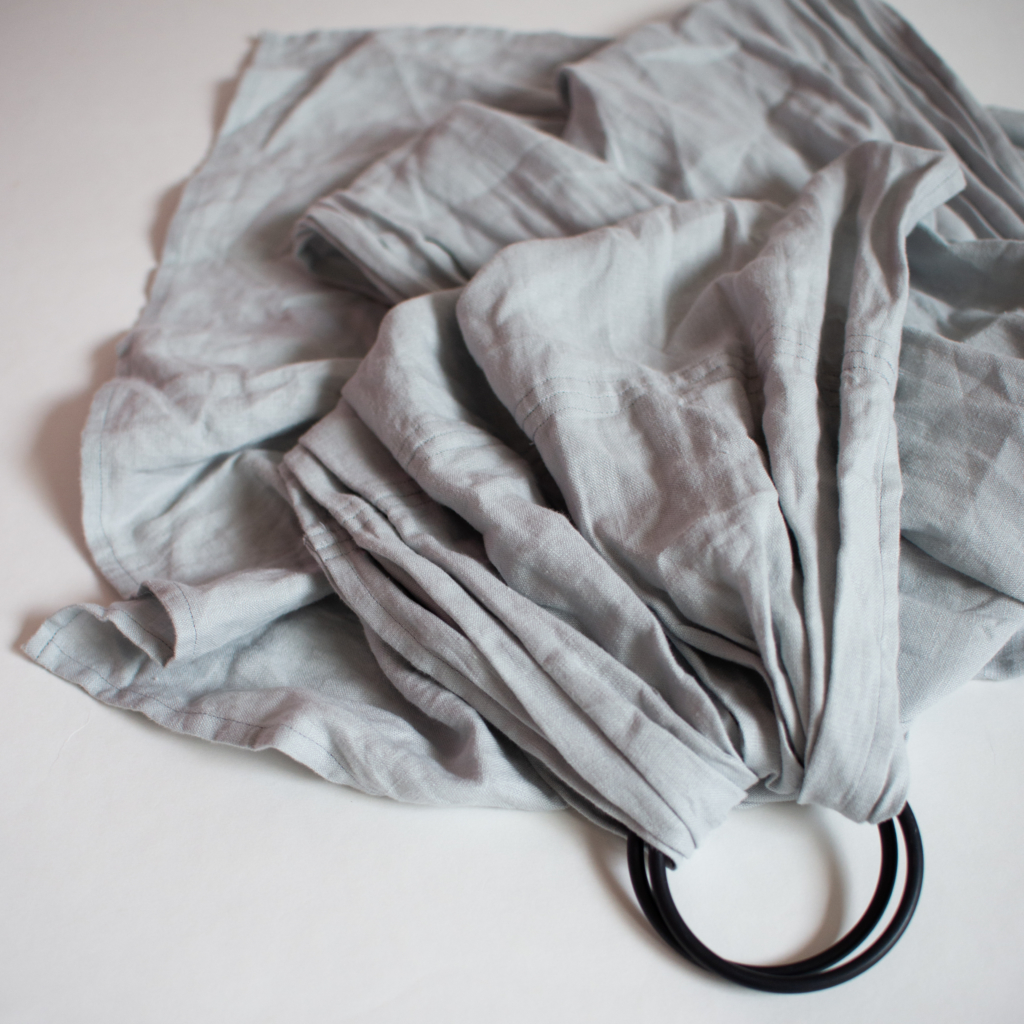 Ring slings are really popular because they are comfortable and so easy to use. I have already used mine to go grocery shopping, go for walks, tour the city, and go out to lunch. I basically use it when I go out and would rather just carry my baby, or at home when they are fussy and my arms are getting too tired to hold them. Haha.
I learned how to make these ring slings because my brother-in-law gave me a bunch of rings that he had ordered, and he wanted me to make one for his wife. After making one for her and myself, I made a few more for friends. Ring slings are so easy to make and make great gifts for expecting moms (as long as they are made with safe materials and made correctly).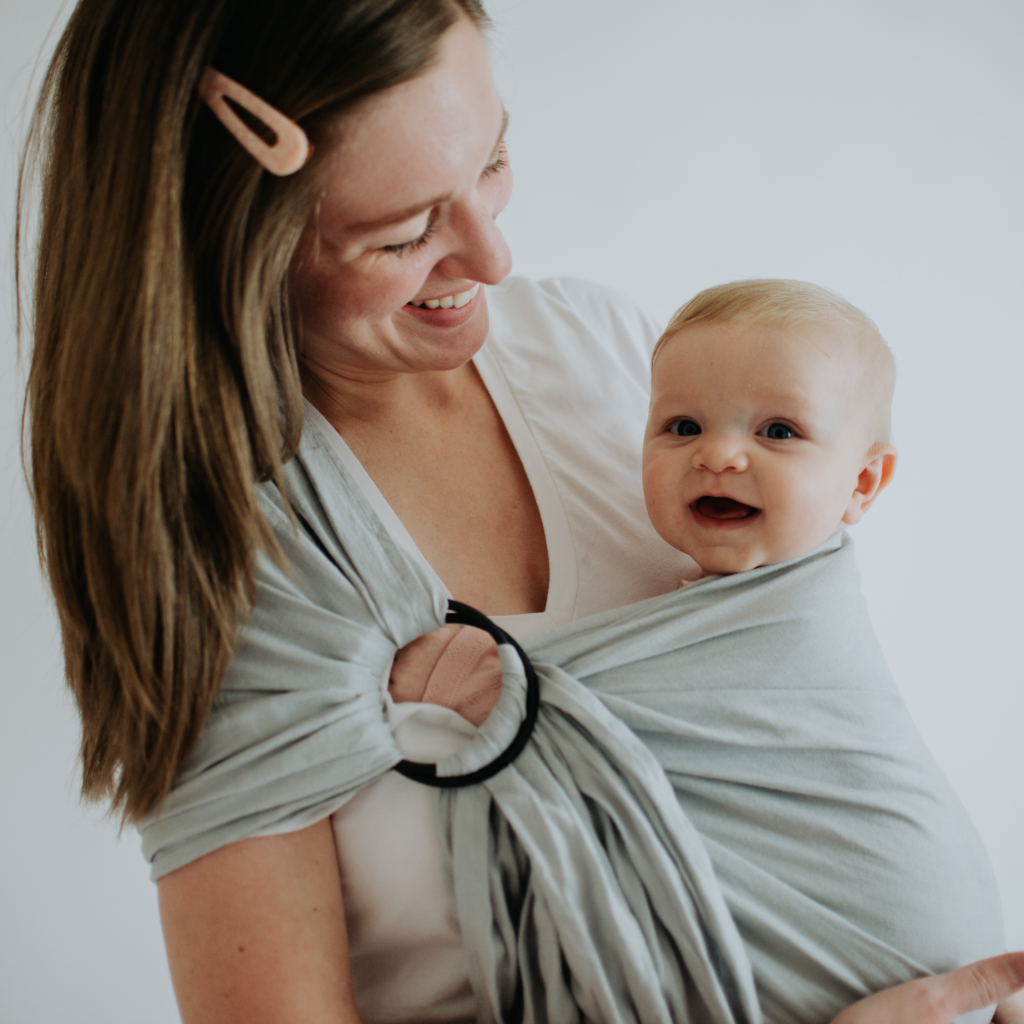 I did some research on ring slings before starting and here is what I found:
Rings:
Rings that are made for ring slings are much safer when trusting them to hold your child's weight. Cutie Carry rings have really good reviews and say that they have been lab tested for strength and safety. Accmor rings also have really good reviews and costs a couple dollars less.
Fabric:
You want to avoid using fabrics that will get too hot, stretch too much, or lose strength when they're wet. Good fabric choices for slings include 100% linen, cotton (like light-midweight twill or denim), or dupioni silk. You basically want a fabric that is strong, but drapes well enough to mold well to your body and your baby. High quality fabrics like linen and silk tend to be a bit more pricey by the yard, but they will better guarantee the safety of your baby. Please do not sacrifice safety for the price of the fabric. I used 100% linen for my sling and it has been great since the fabric is breathable and strong enough for when I'm pulling to tighten the sling. PLEASE CLICK AND READ THIS ARTICLE FOR MORE INFO ABOUT RING SLING FABIC.
Most ring slings are around 75-85 inches long, which is why it takes around 2.5 yards of fabric. Ring slings are around 25-30 inches wide, and when you buy woven fabric, it's usually 50-60 inches wide. So when your making your sling you can just cut the fabric in half (long ways) and you have fabric for two slings!
Thread:
Polyester thread is best because it will last the longest. I personally use Gutermann thread.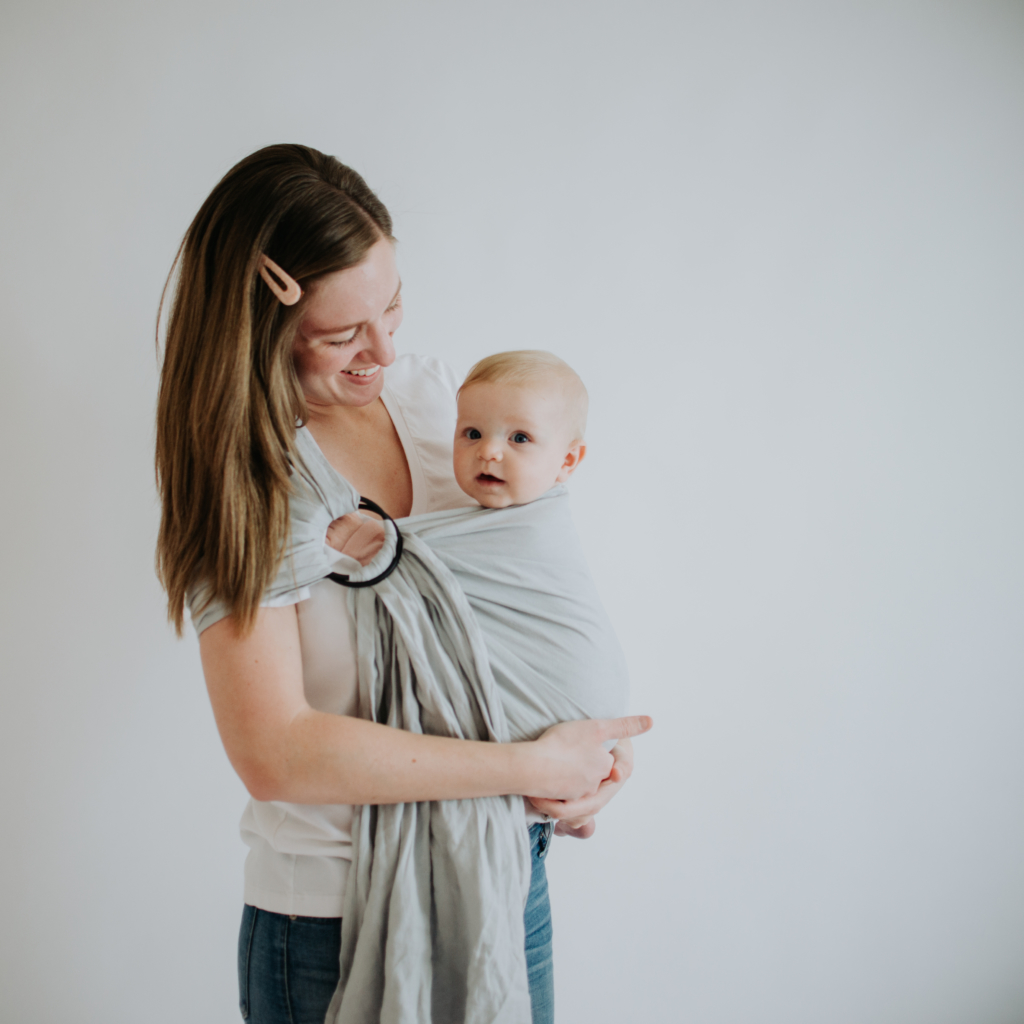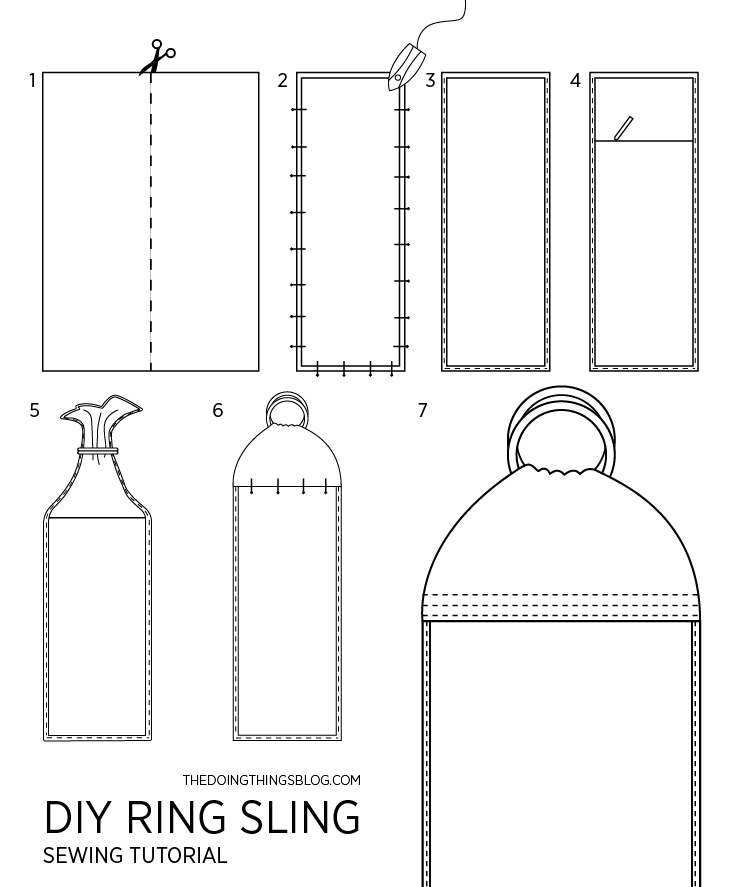 Materials:
2.5 yards of fabric (CLICK HERE for information about fabric)
2 medium or large aluminum rings (rings that are made for slings)
matching thread
pins or Wonder Tape
fabric scissors (to cut fabric in half)
iron
fabric pen (anything that will wash out)
Directions:
Prep – Prewash and dry your fabric the way you plan on doing so in the future after your sling is made. The fabric will fray, so you can sew or serge the two raw sides together before washing, or just cut the loose threads afterwards.
1- Cut your fabric down the middle so that you have two pieces of fabric that are 2.5 yards long by about 25-30 inches wide. You will use one of the pieces of fabric to make one ring sling. **Must be one continuous piece of fabric for safety.**
2- To make a finished edge, start with one of the long sides, and fold over a quarter inch and iron. Fold the fabric over a quarter inch one more time so that the raw edge is encased in the folds. Iron and pin. Do the same for the other long side, and then the two short sides. Pin well or use Wonder Tape (wash away tape) to keep the fabric in place.
3- Right now you are only going to sew over three sides (two long and one short). Starting at a corner, sew up one of the long sides, pivot at the corner and continue over one of the short sides; pivot again and sew down the other long side, leaving the second short side unfinished. Back stitch at the beginning and end.
4- Measure 15 inches down from the end that is not sewn. Draw a straight line all the way across the fabric.
5- Get the end that is not sewn and pull it through both rings. Make sure not to twist the fabric while pulling it through.
6- Line up the unsewn edge with the line you just made. The finished edges should face each other. Pin well or use Wonder Tape to keep the fabric in place.
7- Sew over both layers of fabric, as close to the edge as possible (1/8 inch). Back stitch at the beginning and end. Sew another line 1/4 inch above that. Back stitch at the beginning and end. Sew one more line 1/4 inch above that (for a total of 3 lines). Back stitch at the beginning and end.
And you're done! Make sure to wash out Wonder Tape before using. There are great tutorials on Youtube on how to use your sling. CLICK HERE for a great video that covers all the ring slings basics.
Happy ring sling sewing and wearing!!
Click here for the PDF printable version!
This post contains affiliate links. For more information see our Affiliate Links disclosure.