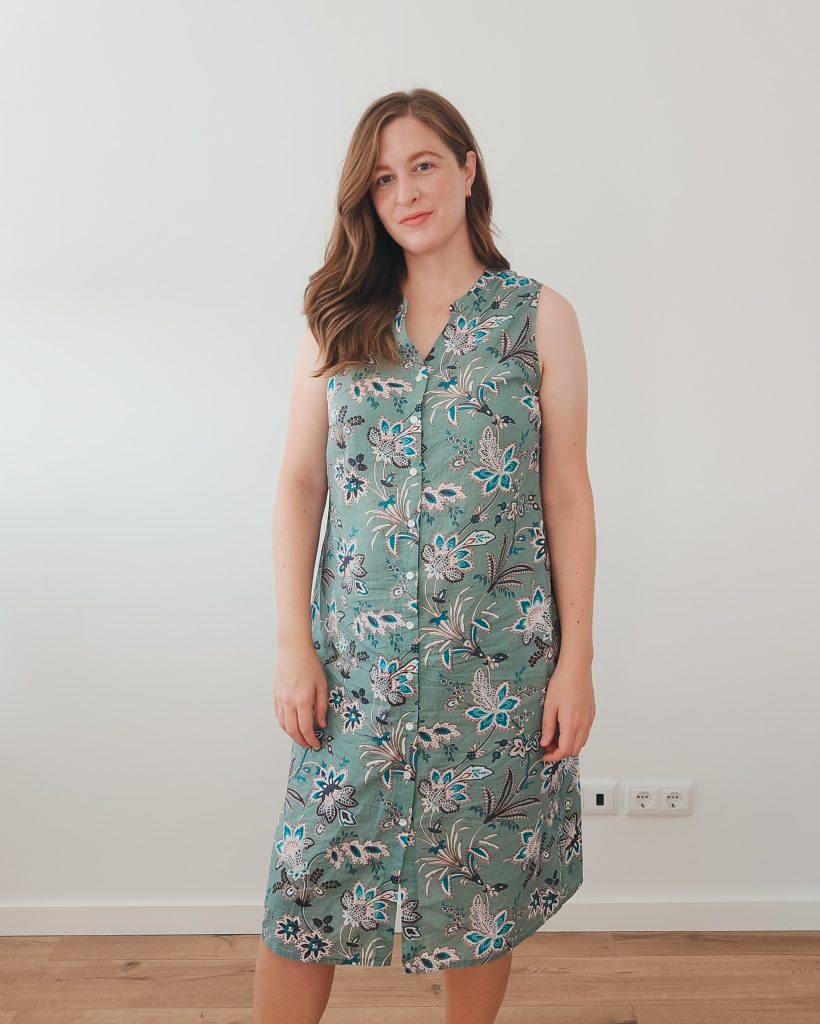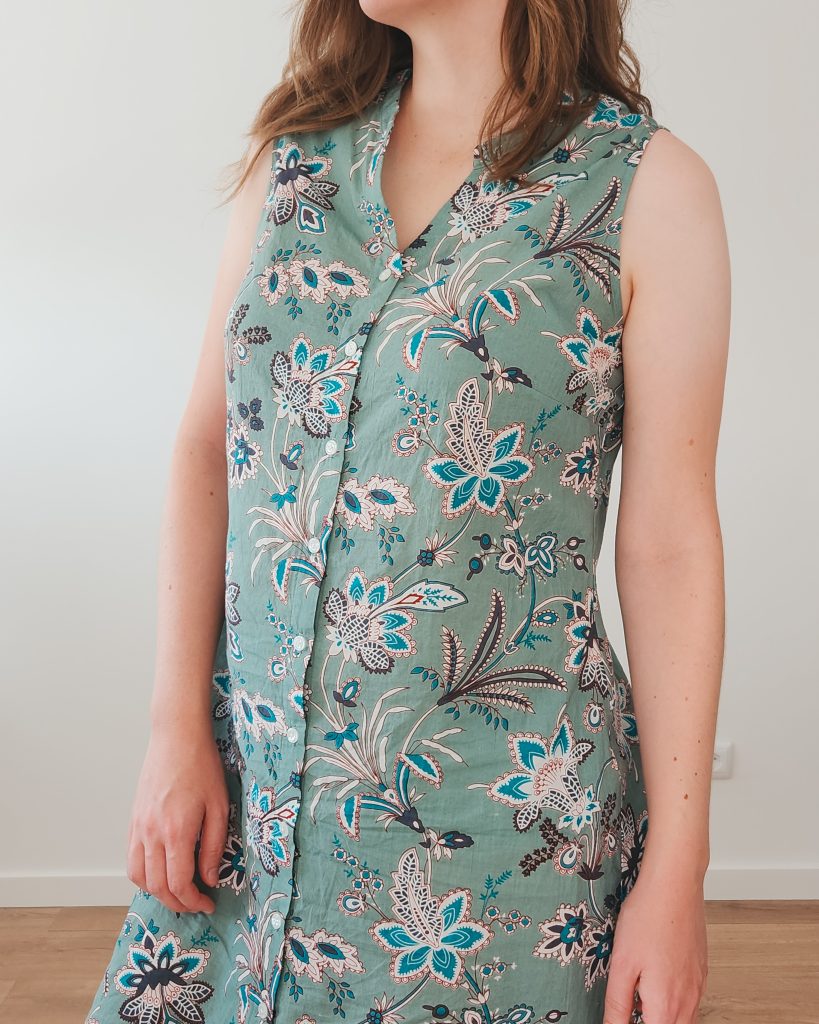 This may seem like a very unseasonal sewing project, but I finished it over a month ago and actually got to wear it a couple of times before it got too chilly. Also – huge shocker – this is the first dress that I've sewn for myself in over 3 years! I got a little bit burned out from making dresses after I had my daughter, plus we were living in Washington state and the weather wasn't ideal for wearing dresses very often. So, hooray for living in a warmer climate again!
A couple of years ago I found a sleeveless shirt dress at the thrift store, and I wore it so much this summer, so I really wanted to make another one. I didn't want to buy another pattern, especially since PDF patterns are so much more expensive now, and then have to print it too. So, I traced the top half of my thrifted dress and compared the pattern pieces to the Bonn Shirt & Dress pattern (sizes up to 49″ bust/48″ waist) that I already had printed.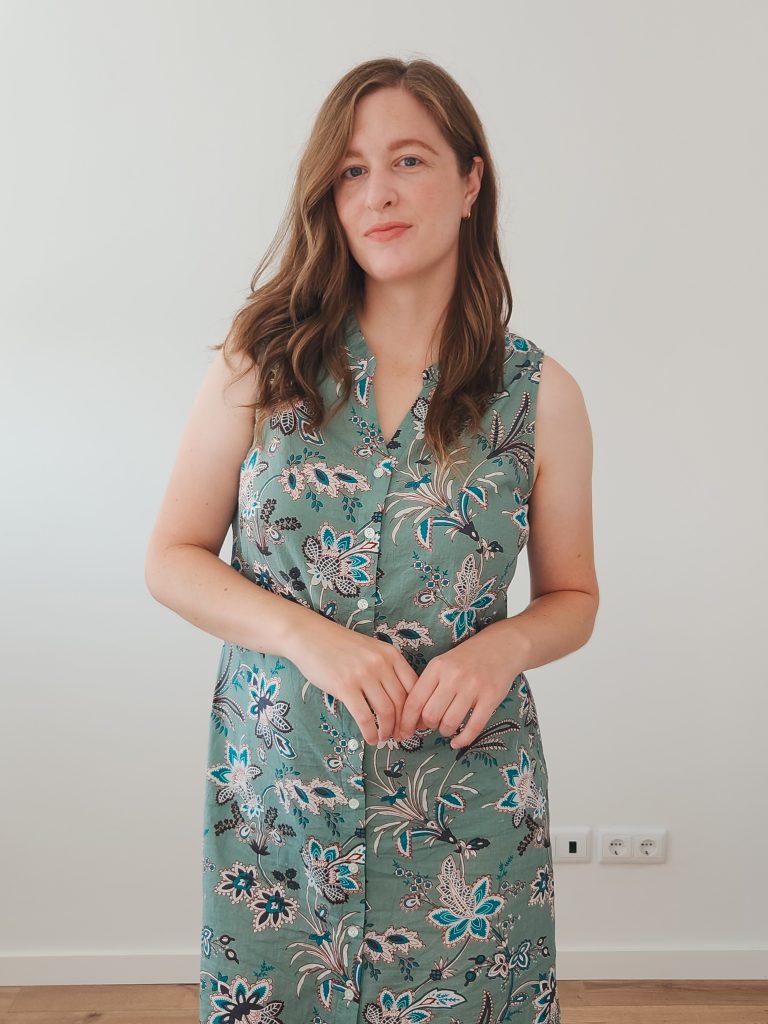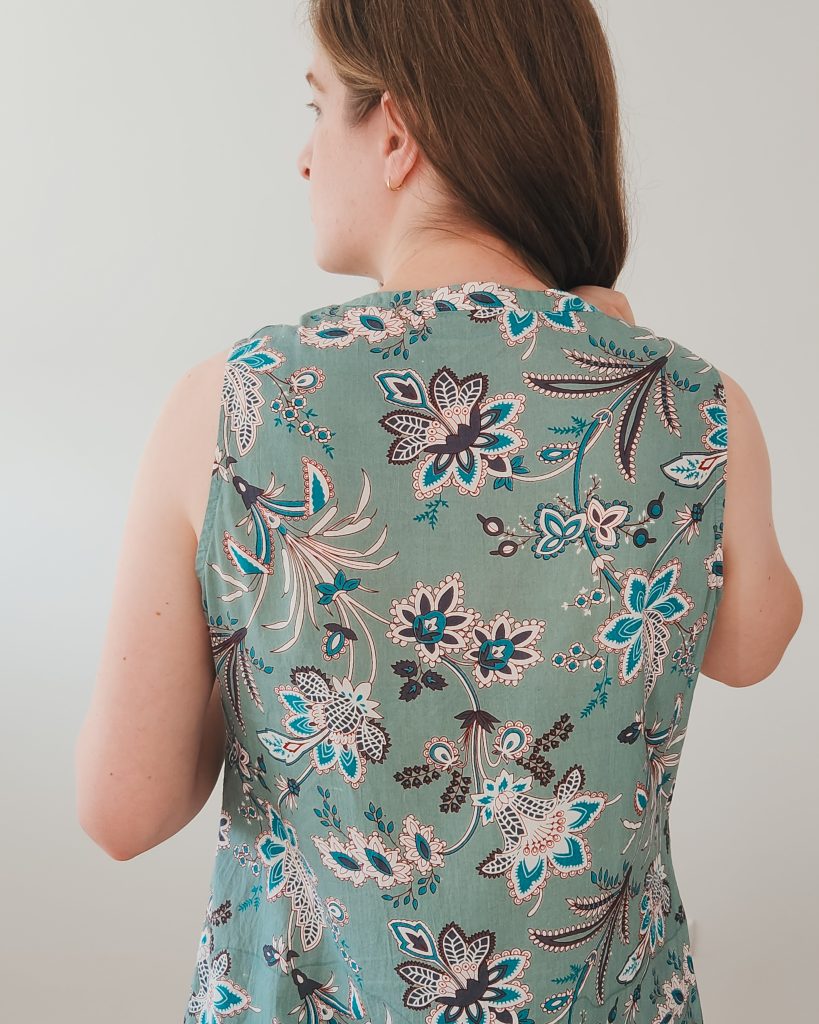 My first Bonn Dress that I made in May 2018 is still one of my absolute favorites, but after having another baby, it doesn't fit quite right, and that's pretty depressing. I even brought it all the way to Portugal because I really hoped that I would somehow be able to wear it. My first Bonn Dress was a size 8 graded to a size 10, but this one I made a size 10 graded to a size 12. I also used the C cup instead of the size B that I used for my first one. This dress fits MUCH better, and I think the vibe of the fabric is similar, so I feel a little bit less sad that I probably won't be able to wear the other one again.
Luckily, I wrote down all of my sewing tall adjustments in the 2018 blog post, so I was able to do exactly those again:
lengthen by 1.25″ just above the dart (my lazy, but effective, way of lowering the bust dart)
lengthen by 1″ at the waistline
lengthen 5″ below the hip area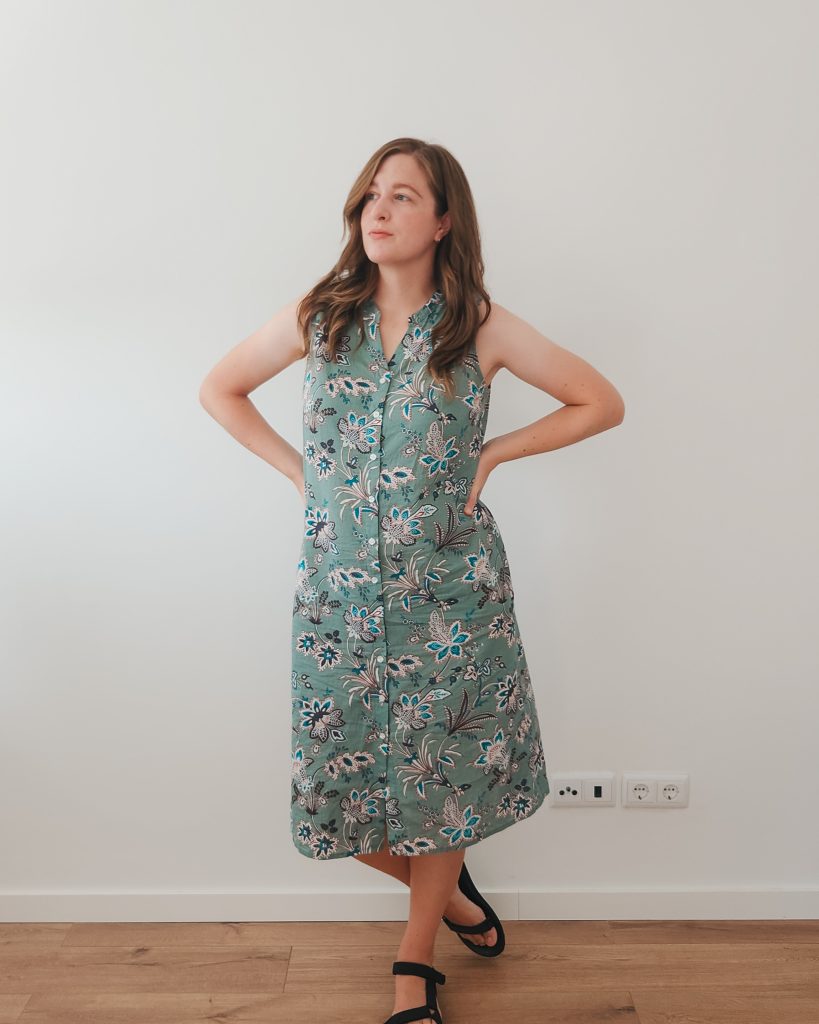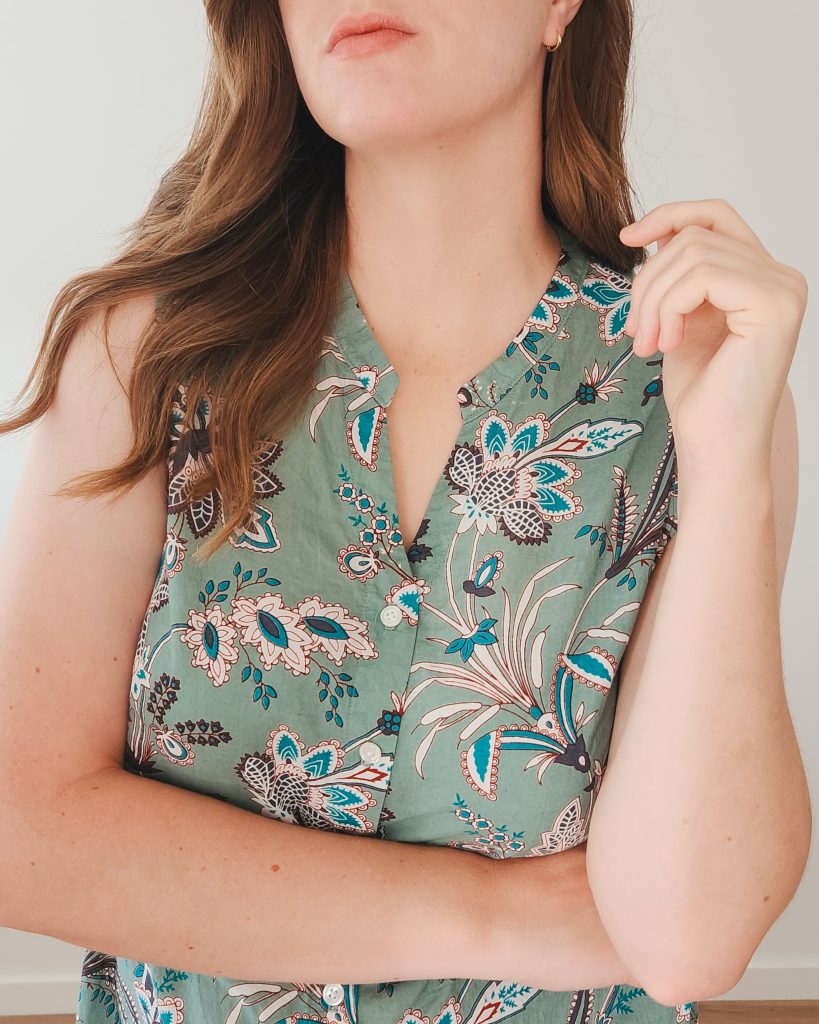 The armscye adjustments to make this pattern sleeveless are a lot harder to explain, but I will make it as simple as I can. First, I made the shoulder seams more angled at about 3/8″ difference. Then I took off 3/8″ along the armscyes. Once I sewed the binding on, it also reduced the armscye by another 3/8″.
I actually took a bit more off of the back armscye to make it closer to my thrifted dress, but it's difficult to share the exact amounts. You may have to adjust yours more or less than that anyway, or you may have a different preference for how you like your sleeveless garments. I recommend trying your pattern pieces up next to garments that you already like the fit of or making a toile. What's nice about this pattern is that there isn't a back yoke, so you don't have to give yourself a headache over that.
This fabric is a floral Indian print from Fibers to Fabric on Etsy that I bought at the beginning of the year. It's no longer in stock, but they're always adding new fabrics and remnants, so I'm always checking back to see what's new.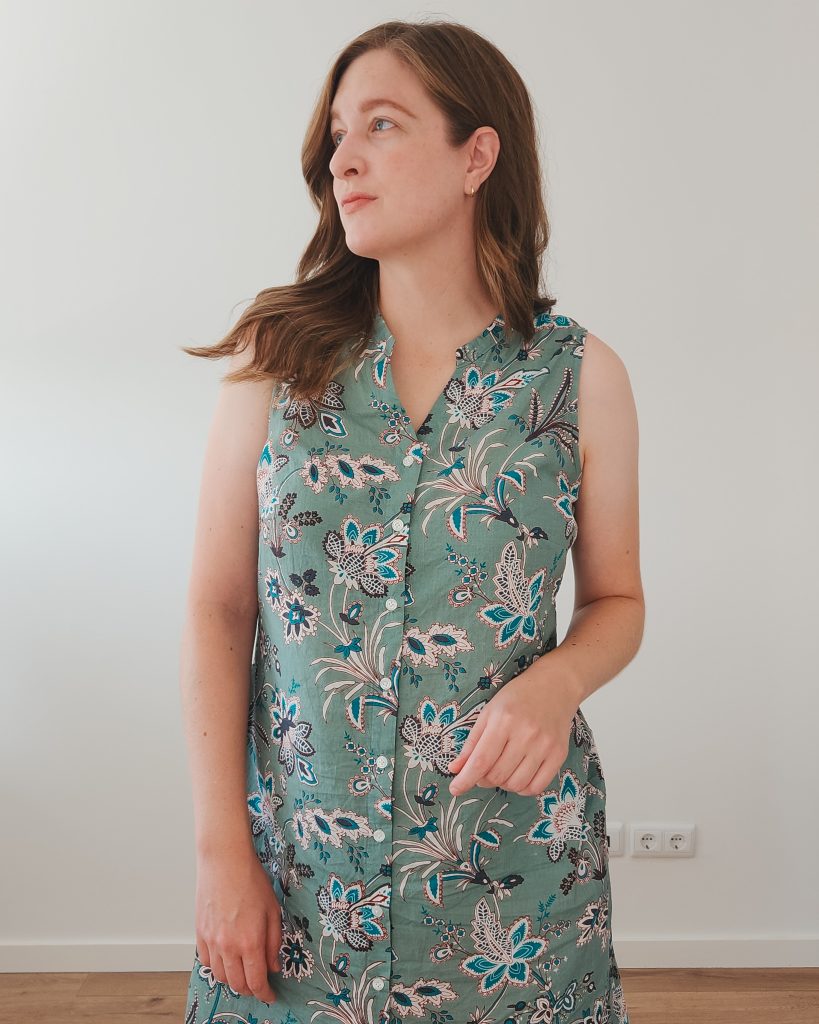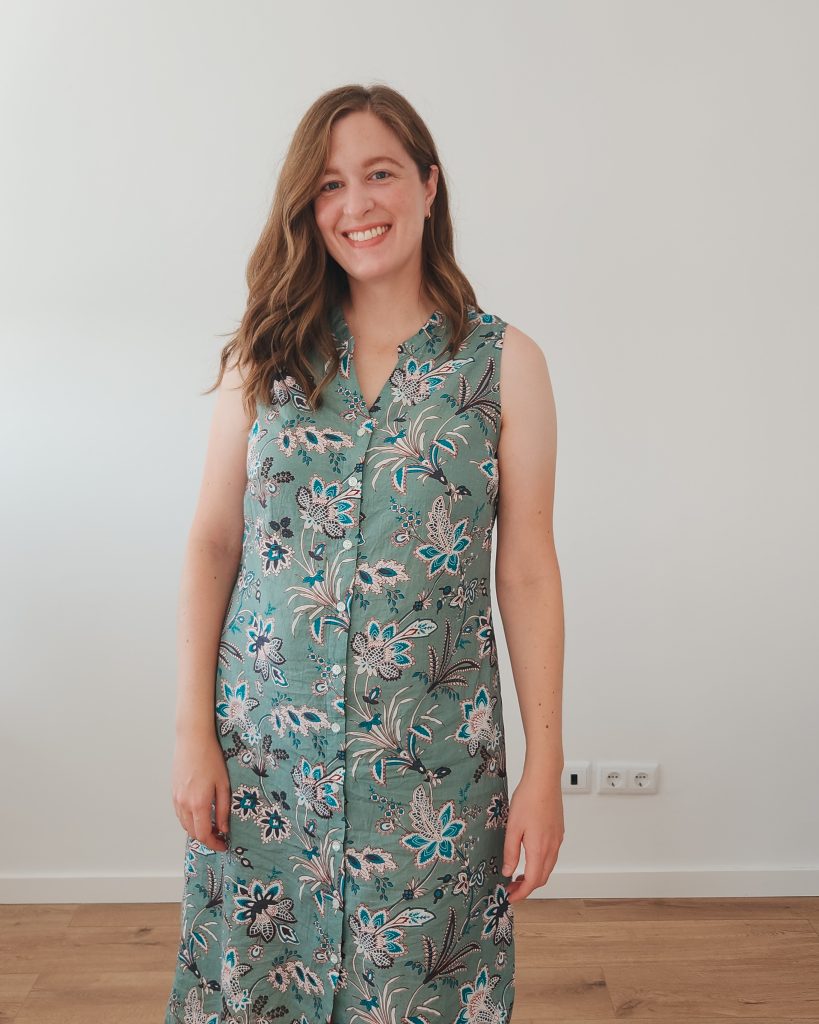 I've made a couple other Bonn Shirts over the years in hopes that I would love them as much as I love the dress, but there's just something about the dress that feels different. I'm so happy to have this dress that fits me much better and feels so good to wear. I'm definitely looking forward to next summer when I'll get to wear it more.
---
Feel free to subscribe if you want to keep up with my posts and find me on Instagram and Pinterest too. Happy sewing! xoxo